Literary Hub is pleased to unveil the cover of Erica Berry's forthcoming debut album Wolfish: wolf, self and what we tell ourselves about fearwhich will be published by Flatiron Books on February 21, 2023. Wolfish is an original and in-depth work of non-fiction that is rooted in Berry's years-long quest to study the cultural heritage of the wolf.
Here is how Flatiron describes the book:
In this captivating and kaleidoscopic exploration of both real and symbolic wolves, Erica Berry weaves historical and scientific findings alongside criticism, journalism and memoir to illuminate the strands of our cultural constructs of predator and prey, and what what does it mean to navigate a world in which we can be both.
From 17th century Europeans referring to mysterious bodily wounds as wolves, to contemporary xenophobia about wolves crossing national borders, wolves have long been designed to convey our most ingrained socio-political, environmental and bodily fears. Intimate and stimulating, Wolf is a lyrical investigation into the relationship between humans and wolves, grounded in the dual stories of a legendary tagged wolf, OR-7, and the author.
Tracing OR-7's long solo journey after leaving his pack in northeastern Oregon alongside the author's own trajectory of homelessness away from his home in Oregon, Wolfish struggles with inherited narratives around fear, danger and the body. From her grandfather's sheep farm to a wolf sanctuary on an aristocratic English estate, Erica Berry unravels the binaries of predator and prey, self and other, and wild and domestic, finding new expressions for how to be a woman. courageous, human and animal in our warming world.
Perfect for readers of cultural criticism, environmental writing, Rebecca Solnit, H is for Hawk, or anyone trying to navigate an often scary world. A timely and necessary book for present and future generations.
Here's the cover, designed by Flatiron art director Keith Hayes and illustrated by Rokas Aleliunas: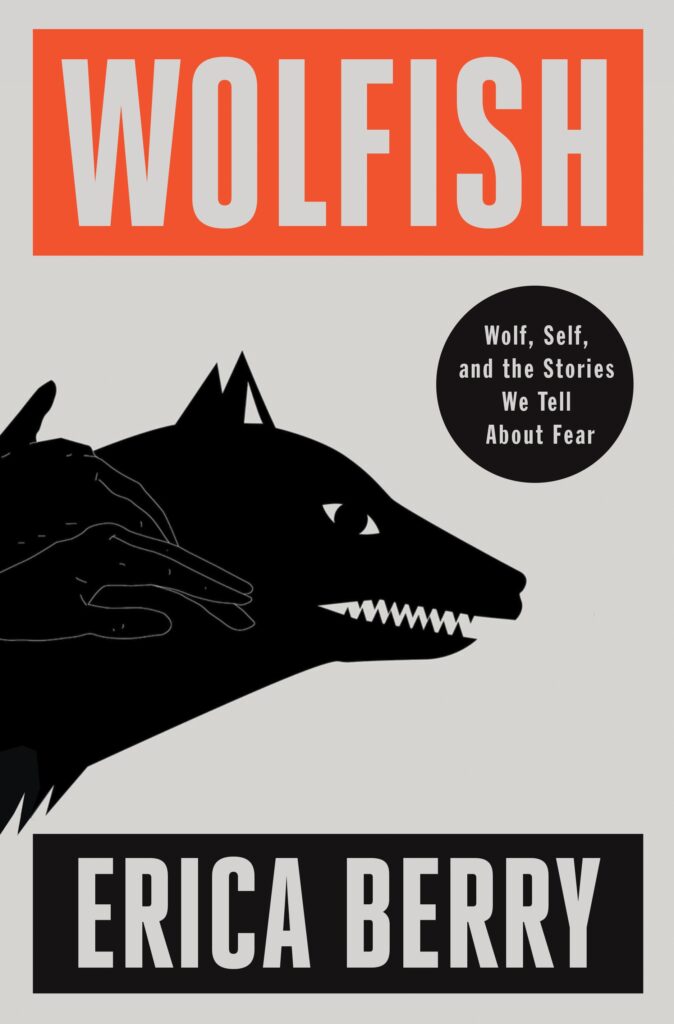 "For a long time, I struggled to imagine the cover of this book," Berry told Literary Hub. However Wolf traces the life of a famous real-life wolf, it also unravels the symbolic wolves of fairy tales and the headlines of 'lone wolf' attacks, asking what these 'wolves' tell us about how we live in fear. I didn't want a cover that said "animal book" without making it very clear that it was also a "human book". It wasn't until one of my best childhood friends found an antique French engraving of a wolf shadow puppet that it clicked. It was exactly what I wanted the book to do: map the shadows on the wall, but also the hands that did it. I feel very lucky that Nadxieli Nieto, my editor at Flatiron, has always understood what Wolf wants to be, and she brilliantly pitched the concept to the art team. I was obsessed as soon as I saw the design by Keith Hayes and the illustration by Rokas Aleliunas. I love that it manages to be both graphic and surprising while being elegant and archetypal. It seems very appropriate that the hands do not necessarily appear at first glance, and so the architecture of shadow emerges, slowly. I'm truly in love and so grateful to the team at Flatiron for capturing the spirit of Wolfish so well.
Flatiron Art Director Keith Hayes writes, "The original concept was actually the author's idea. I was lucky to find this illustration by Rokas Aleliunas. Its style corresponds to the modern and literary atmosphere that we were looking for.
Wolfish: wolf, self and what we tell ourselves about fear hits on February 21, 2023. You can pre-order it here.